You are currently browsing the category archive for the 'History' category.
Days the Roman Calendar sees as the end of October to the beginning of November were sacred days for the ancient celts. As part of the holiday of Samhainn, celts would celebrate the last harvest and the beginning of the darker season. They would also honor ancestors and other spirits, as Samhainn was a time in which boundaries were less distinct and spirits moved freely between worlds. Some still celebrate and Samhainn is the basis for Hollowmas and Halloween.
Though originally taking place in summer months, an Aztec festival honoring ancestors has survived for thousands of years as the Days of the Dead/ Dias de los Muertos in its partially colonized consolidation into the same days as All Saints and All Souls Day.
The Industrial Workers of the World, a historic and visionary industrial union, have a tradition called, "In November We Remember," which is about remembering the fallen comrades and social ancestors of the IWW, including Joe Hill, killed Nov. 19, 1915, as well as many others.
Lost celt and long-lapsed wobbly that I am, I am reflecting on ancestors and spirits. My grandparents, my uncle, a friend of my family, two of my teachers. Political acquaintances who died serving the movements. Named and unnamed queer and "gender-non-conforming" people whose bravery has allowed me to live a little louder and dream a little bigger than I otherwise could have lived and dreamed. Thank you.
Through I didn't know him personally, I am also still thinking of Herman Wallace who just passed in early October. I have long believed that supporting and including people imprisoned for their involvement in liberatory political movements is essential for building any kind of meaningful change.
As was recently brought up by the North American Anarchist Black Cross Medical Justice Committee, "Herman was just one of many, ageing political prisoners (and prisoners of war) in the United States who are currently being denied adequate medical care and the compassionate release for which they qualify . . . "
"Unfortunately, cases like Herman's are far too common. Albert "Nuh" Washington, Bashir Hameed  and Marilyn Buck are other recent victims of prison medical neglect. Some, such as Merle Africa, have died under suspicious medical circumstances. More will soon follow, if swift action is not taken. "
I am thinking of all of them. Herman Wallace and his tireless supporters have shown us that a political prisoner falsely accused of murder can be released through the court system, at least when they are nearing the end. The partial victory suggests that its possible to  make this happen sooner and faster for others.  I think we have to try to do our parts and show our own social descendants, the youth of tomorrow, that resisting the status quo doesn't mean living out one's days alone and neglected.
Herman Wallace Finally Free (2:29)by Mumia Abu-Jamal via Prison Radio 10/4/13
FAREWELL HERMAN by Albert Woodfox via moorbey
"Well, the old man has decided to leave us! I am sure it was a very hard choice for him, who will I serve, the ancestors who have called me home, or humanity whom I love so much?"
Read this very important statement below for perspective on going forward. . .
"Forty years ago to the day, Assata Shakur (birth name JoAnne Deborah Chesimard) was involved in a shootout at the New Jersey Turnpike, which left a st
ate trooper dead. Shakur, then a Black Liberation Army and Black Panther Party member, was convicted of his murder in 1973. In 1979, with the help of allies in the black radical movement, Shakur escaped from prison, eventually emerging in Cuba, where she has lived since 1984.Asof Thursday – the reward on her capture and return doubled to $2 million — the 66-year-old fugitive was named the first woman on the FBI's most wanted list." (Read the rest at Salon.com)
Read her book if you haven't  . . .
Yes, I should have blogged this on Monday but I didn't.
The day has passed but the relevance of the message has not . . .
"Greetings my relatives and friends, supporters!
I know I say this same line all the time but in reality you all are my relatives and I appreciate you. I cannot say that enough. Some of our people, as well as ourselves have decided to call today Indigenous Day instead of Columbus Day and it makes me really think about how many People who still celebrate Columbus, a cruel, mass murderer who on his last trip to the Americas, as I have read, was arrested by his own people for being too cruel. When you consider those kinds of cruelty against our People and his status, it makes you wonder to what level he had taken his cruelty. In all of this historical knowledge that is available people still want to celebrate and hold in high esteem this murderer.
If we were to celebrate Hitler Day, or Mussolini Day, or some other murderer and initiator of violence and genocide, there would be widespread condemnation. It would be like celebrating Bush Day in Iraq. It's kind of sad to say that even mentioning Columbus in my comments gives him more recognition that he should have. So I agree wholeheartedly with all of you out there that have chosen to call this Indigenous Day. If I weren't Native American or as some of have come to say – Indigenous, I would still love our ways and cling to our ways and cherish our ways. I see our ways as the way to the future, for the world. Where as I and others have said over and over, and our People before us, this earth is our Mother. This earth is life. And anything you take from the earth creates a debt that is to be paid back at some time in the future by someone . . . " (Leonard Peltier)
"Sacco and Vanzetti were two anarchist militants, framed in an unfair trial at a time of anti-radical repression and executed as enemies of the state. Their names still strike sparks of controversy, illuminating the limits of democratic state 'justice', what the powerful will do to their enemies, and the strength of human resistance. "
"Both men died bravely, just after midnight on 23 August 1927. Sacco proclaimed 'Viva l'anarchia!' (Long live anarchy!), Vanzetti declared his innocence and that he forgave some people for what they were doing. Five days later the Boston police paid them the compliment of violently attacking their funeral procession. "
"Black August originated in the concentration camps of California to honor fallen Freedom Fighters, Jonathan Jackson, George Jackson, William Christmas, James McClain and Khatari Gaulden. Jonathan Jackson was gunned down outside the Marin County California courthouse on August 7, 1970 as he attempted to liberate three imprisoned Black Liberation Fighters: James McClain, William Christmas and Ruchell Magee. "
So apparently one of the next things that happens in the u.s. after pride is the 4th of july?? No good. Pride and strength in queerness and difference can be beautiful but pride in a nation state, particularly one built on stolen and occupied indigenous land, one that is a current flagship of globalized imperialism? Well, that's just gross.
And need I mention, it's too hot for this shit. Honestly. It's hard to concentrate on anything and there are prisoners to write and things to do and now there is also this 4th of july holiday.
Hello, global warming. Already this heat wave has taken out power in many places and now in new york city, Con Edison didn't feel like negotiating a union contract with their workers so they locked them out and are letting their managers juggle this giant city's electric grid while it's already stretched thin powering millions of air conditioners.
So please, be prepared for black out and other heat related emergencies, drink water, support your fellow workers and your fellow humans and other beings.  By all means, take your day off from work if you have it, celebrate people, community, and benign things like that, but don't let the fireworks bedazzle you into feeling anything for the stars and stripes or the state they represent.
Consider how they must have looked to the Afrikan captives and sweatshop laborers who stitched them,  to the many places occupied by the u.s. military, the many places torn apart by the u.s. military, the many people imprisoned by the u.s. at home and abroad. And how sad it must look to anyone who happens to visit that colonized spot on the earth's moon, which unfortunately had no ewoks to defend it.
So do humanity a favor and collect any flags in your vicinity, turn them upside-down, and grill 'em up.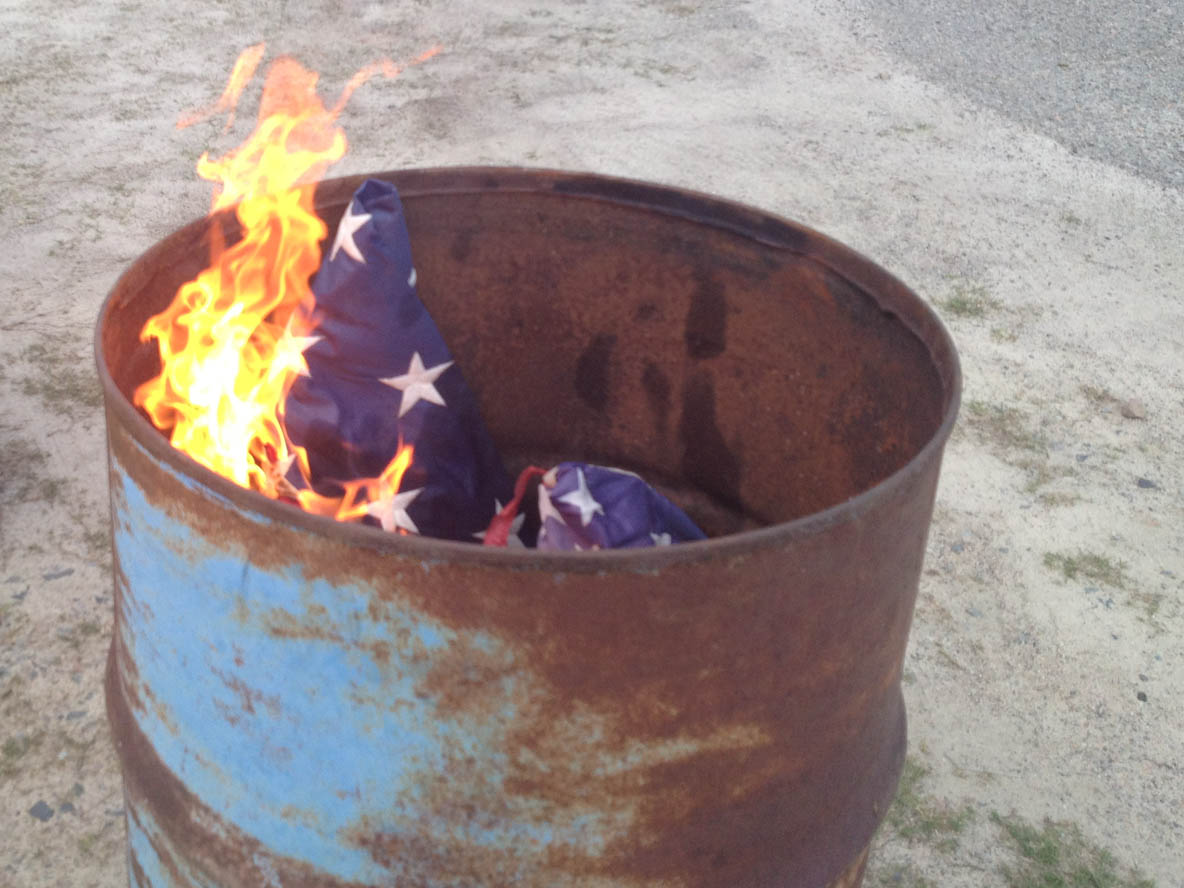 For those of you with an appetite for further reading on resisting imperialism, check out Crimethinc's Designed to Kill: Border Policy and How to Change it.
"Pride month" commemorates the anti-police stonewall riots of late June 1969, when gays, drag queens, trans people, and other ancestors of today's queer, trans, and otherwise gender-varient and/or non-straight-sexual people literally fought to free themselves from police repression and societal marginalization. There are more than a few groups and individuals carrying that torch forward but you wouldn't know it, looking at all the corporate floats and mainstream flag-waving that went on today and throughout the month. Some gayness has found its way to normalcy, assimilation, and co-optation and some of its constituency and profiteers want to sit back, cash in, and celebrate a previous generation's struggle and a present generations triumph over bygone wicked times. Celebration is fantastic but without continued resistance, it makes no sense.
Think about it: the stonewall rioters of 69 fought to expel the police and deny them their routine of raiding, arresting, jailing, beating, and assaulting their people and their scene. While it is now a lot more legal for queer and gender-variant people to congregate in bars etc, police invasion and control has reached new heights with "stop and frisk" tactics and operation clean halls which brings harassment and ID checks into NYC apartments– just like people were lined up and ID'd in places like the Stonewall Inn and arrested for not conforming to their assigned sex as read by police. And how much has changed there?- as trans people are still discriminated against in terms of IDs, access to healthcare, and access to social services. There's also the proliferation of the various prison systems in which "Trans women are up to 15 times more likely to be incarcerated than the general population, " and once in, they tend to be housed in male prisons and put at risk for rape, assault, and abuse. Many trans women of color were killed this year in the united states, hundreds of trans people are killed globally each year, and as the story often goes, CeCe McDonald, a trans woman of color  who defended herself from a bigoted transphobic racist attack was recently convicted of manslaughter and put in a male prison. These are just a few examples.
Stonewall veterans and revolutionaries like Sylvia Rivera  founded groups like the Gay Liberation Front and STAR (Street Transgender Action Revolutionaries) and worked with the Black Panthers and Young Lords. She didn't restrict herself to gay rights nor did she take opportunities to become an assimilated victor, not that she had them.
Don't get me wrong. I don't have any problem with pride, celebration, and festivities. In fact, I love them. I just take issue with the mainstream delusion that the fight is over and that queerness can be divorced from other social struggles. It was wonderful marching with the Trans Day of Action in NYC as well as the Drag March. When pride and celebration of who and what we are comes from a rich and broad spectrum of light– when the rainbow comes from the rain as well as the sunshine, when we know there is more struggling to do but we celebrate anyway, that is a truly beautiful thing. And that's why I love June. There really is a lot to be proud of.
This was a quick rant. For further reading, of a more thoughtful variety, check out. . .
Reclaiming Our Lineage: Organized Queer, Gender-Nonconforming, and Transgender Resistance to Police Violence
By Che Gossett, Reina Gossett, and AJ Lewis
Sometimes I wander through days and they are just days—the earth continues to be pulled in a spin around the sun and I get no useful organization or meaning through counting.
Other times, the history is so tangible, thick, and sticky that I can barely wade through it.
This year, my certain days calendar told me Mother's Day coincided with the anniversary of the Philadelphia police dropping a bomb on the MOVE family's home in 1985. Honoring and celebrating mothers is very important and this anniversary just highlighted for me how bittersweet it is when so many mothers are being torn apart from their children, and their grown children, by occupation, war, police, and prisons. I saw this today . . .
"Mother's Day began in [u.s. occupied] America in 1870 when Julia Ward Howe wrote the Mother's Day Proclamation. Written in response to the American Civil War and the Franco-Prussian War, her proclamation called on women to use their position as mothers to influence society in fighting for an end to all wars. She called for women to stand up against the unjust violence of war through their roles as wife and mother, to protest the futility of their sons killing other mothers' sons." (more here)
And once my thoughts started unfolding in this way I couldn't stop thinking about early May. . .
For the celtic pagans, and for others, Beltane and similar holidays brought/brings in the spring/summer season with fires, feasts, and celebration. The tradition still has literal adherents but it also resonates in indirect ways. With or without the practices, traditions, spiritual belief, relationship to land and season, many people can't help but be affected by the shift toward spring and summer. Many can't help but celebrate in some way.
In 1886 May 1st emerged as a day when workers would coordinate strikes and take to the streets, ideally in a general strike—the ideal of all workers going out on strike at the same time for better conditions, wages, and ultimately freedom from having to trade work to wealth-horders in order to survive. I don't know if there's any straight-forward relationship between Beltane and May Day but this somewhat lyrical essay that I found through political prisoner Mandy Hiscock's blog brings them together nicely.
May 1st 2012 brought with it a culmination of activity around a call for a May Day General Strike.  It didn't shut down many workplaces through formal union activity but some of it spoke to a May 1st historic trajectory—an element of opposition to wealth and power that is outside of their control.
On May 4th 1886, a May Day bomb thrown in retaliation for the murder of workers caused deaths and injuries to police. Rather than accusing anyone of throwing the bomb, the city of Chicago took the opportunity to criminalize speeches and ideology, eventually executing four anarchists for speech. – On May 1st 2012, the FBI finished up an entrapment plot. They allegedly identified a group of "self-proclaimed anarchists,"  allegedly talked them into bombing a bridge, allegedly supplied the fake bomb, and had them arrested for their alleged intentions on May Day so as to vilify anarchists to the media. Of course, anarchism comes from a humanistic tradition and would never intentionally put innocent civillians in harm's way– unlike the FBI. It's extremely likely that this May Day plot is a product of the FBI agents' imaginations. They got to play the bad guys and the good guys and use people as props and at the heart of it, various agents of state are still attacking speech and ideology.
On May 4th, 1981, Provisional IRA prisoner of war, Bobby Sands died in prison on hunger strike. He refused food to the point of death just to protest his criminalization, just to assert that he was a prisoner of war, and extend legitimacy to the cause for a united sovereign Ireland free from Brittish occupation and intervention. As I write this, over 2000 Palestinian political prisoners are on hunger strike. The leadership released a statement on May 13th, refusing a compromise with Israel and affirming a willingness to die on strike.
On May 5th, 1862, within years of the Mother's Day statement and May Day 1865, the people of Puebla drove a French occupying army out of Mexico and thwarted the last attempt of a foreign colonial power to take Mexico for themselves. Of course, imperialist interests have continued plunder the region, and must be driven out, but Mexico, as a regional home to many indigenous north american nations, has never been fully conquered and that is worth celebrating– though the united states' cultural appropriation of Cinco de Mayo leaves something to be desired.
There's a lot more I can do with historic dates and current events but I need to get this out while it's still timely. Of course, early May is just a change in season. Looking at date-specific snapshots across time is a gimmick but hopefully also a tool to look at the present in some kind of context. Whether or not it's useful, I can't help but do it this time. Some people here, at this point in space-time, early May 2012, are inspired and moving forward. To them, all I can say is go go go.
For me, I'm excited to bring the May Day traditions forward another year, I'm excited about opportunities to make gains in all of these areas and I want to be moving faster. Supporting the political prisoners is equally crucial. The constant crisis and opportunity inspires me but also seems to wear me down almost before I begin. Positive energy seems to hit snags, turn inwards, and create black holes into useless sub-universes. I feel lost and I doubt myself when I move forward. This leads to increased trouble trying to keep up commitments already on my shoulders. How are you feeling?
Of course blogging doesn't necessarily help lost people find their way. This is going to be one of several tools I'm trying out as part of Through the Walls. I'm going to try to harness inspiration other emotions and thoughts toward keeping up the work and finding new paths. I think for as many people as are pushing towards freer societies, there are more people having trouble keeping it up or getting started or plugging in.
All shared writing happens out of the arrogant assumption that one's own words might be useful to others. I'm hoping this blog can help me and others get started or restarted on contributing to a better world. My pledge is to not recommend anything I don't think is useful, and not advocate doing anything that I'm not doing myself. Hopefully I'll be able to delve into issues more in the future, rather than just blurbing and linking. I'm not planning to make a habit of constantly comparing historic events to present ones but, for now. . .
.. . if you're looking for a change, happy new beginning of a new old season to you.